Damon Albarn: Olympic gig will be Blur's last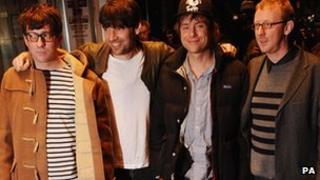 Damon Albarn has said he believes Blur's summer gig in London's Hyde Park will be the band's last.
The group are headlining a special show to celebrate the end of the Olympic Games on 12 August.
When asked about the future of Blur and if they would perform again, the singer toldThe Guardian: "No, not really."
He added although the band would be performing a new song at the summer gig, he did not "really see any more recordings after this".
Albarn said one-off single, This is Under The Westway, was recorded live in one take.
"It's the first Blur song where it's been one take, because previously I never finished the lyrics before we recorded - which is quite nice, because I don't really see any more recordings after this," he said.
"I hope that's the truth: that that's how we end it."
Blur first split in 2003 but got back together five years later and played a series of festivals including Glastonbury in 2009.
The frontman also explained the reasons why he had stopped making music with bandmates Graham Coxon, Alex James and Dave Rowntree.
"I find it very easy to record with Graham, he's a daily musician," he said.
"With the other two, it's harder for them to reconnect. It's fine when we play live - it's really magical still - but actually recording new stuff, and swapping musical influences… it's quite difficult."
Albarn also said it was "unlikely" there would be anymore music from virtual pop band Gorillaz due to creative differences between him and co-creator Jamie Hewlett.
"I think we were at cross purposes somewhat on [our] last record, which is a shame," he said.
Albarn is currently promoting his debut solo album and "folk opera" project, Dr Dee.