Mike Wallace, 60 Minutes interviewer, dies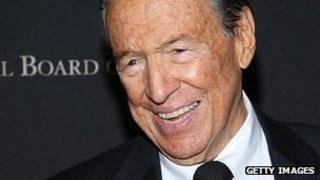 Veteran journalist Mike Wallace, famed for his tough interviews on US news programme 60 Minutes over four decades, has died aged 93.
A spokesperson for CBS said he died on Saturday and had been in declining health in recent years.
Wallace was one of the original hosts of 60 Minutes when it began in 1968.
During his career he interviewed the likes of Martin Luther King, Malcolm X and Yasser Arafat, before announcing his retirement in 2006.
However he still continued to do the occasional report for the show, including interviewing Jack Kevorkian - the US doctor who claimed to have assisted more than 100 suicides - in 2007.
"He was one of the great pioneers in journalism," anchor Bob Schieffer said during CBS's morning news programme. "We are all going to miss him."
In almost 40 years on 60 Minutes, Wallace worked on some 800 investigative reports.
Tribute
Known for spending hours preparing for interviews, he was famed for his sceptical follow-up questioning.
He interviewed every US president since John F Kennedy - except George W Bush - and dozens of other world leaders such as Vladimir Putin, Ayatollah Khomeini and Deng Xiaoping.
A host of celebrities were also subjects including Janis Joplin, Hugh Hefner, Tina Turner, Salvador Dali and Barbra Streisand.
CBS's Morley Saferpaid tributeto the newsman, saying: "Wallace took to heart the old reporter's pledge to comfort the afflicted and afflict the comfortable."
Wallace is survived by his wife, Mary, son Chris and stepdaughter and stepson, Pauline and Eames.