Queen retain UK album sales crown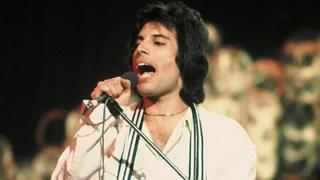 Queen's Greatest Hits remains the best-selling album of all time in the UK, according to a newly compiled chart.
The 1981 collection, which includes Bohemian Rhapsody, Don't Stop Me Now and Another One Bites the Dust, has sold a total of 5.8 million copies.
Its nearest rival is The Beatles' Sgt Pepper album, with sales of 5 million, followed by Abba Gold, on 4.9 million.
But the chart contains a few surprises: The Rolling Stones and Elvis are entirely absent.
Leona Lewis, meanwhile, is revealed as the UK's 20th best-selling album, for her 2007 debut Spirit.
Keane, The Kings of Leon and Travis also rub shoulders with some of the more expected big-sellers from Madonna and Fleetwood Mac.
The Top 40 has been compiled for the BBC by the Official Charts Company and will be revealed in full on BBC Radio 2 by DJ Tony Blackburn.
"This chart is a real mixed bag," said the veteran presenter. "I think listeners will be quite surprised.
"There are artists in there you would expect to see in a countdown of this nature but not necessarily at the positions that they are."
Only four acts - Queen, The Beatles, Michael Jackson and Coldplay - are successful enough to make it into the countdown twice.
And the most recent album is Adele's 21, which sits at number six just 15 months after its release in January 2011.
British artists are the most heavily represented, making up 23 of the 40 albums. America trails behind with nine albums, followed by Ireland with three and Canada with two.
The most represented decade in the chart is the 2000s, which spawned 14 of the Top 40 best-sellers, despite a general background of declining sales and internet piracy.
However, the most successful years in the chart were 1987 and 1997, both of which propelled three albums into the chart.
1987 saw the release of Michael Jackson's Bad (number nine), U2's The Joshua Tree (34) and the soundtrack to Dirty Dancing (23).
Ten years later saw the appearance of Shania Twain's Come On Over (15), The Verve's Urban Hymns (17) and The Corrs' Talk On Corners (25).
The full chart of the UK's best-selling albums will be revealed on 9 April between 16:00 and 19:00 on BBC Radio 2.