Britain's Got Talent moved to avoid The Voice clash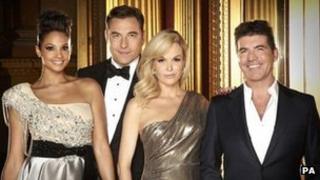 Britain's Got Talent will be broadcast at a later time to avoid an overlap with the BBC's Saturday night programme The Voice, ITV has announced.
Starting from 21 April, the ITV talent show will begin at 20:30 BST, half an hour later than previous shows.
An ITV spokesman said the move ensured "as many people as possible have the opportunity to watch the show in full".
The Voice has consistently attracted bigger audiences during the overlap between the two shows.
'Irritated congrats'
The new time slot means Britain's Got Talent will start just as The Voice is drawing to a close.
At the weekend Britain's Got Talent creator and judge Simon Cowell congratulated the BBC , after it emerged that The Voice had attracted a higher overall audience for the first time.
According to overnight figures, an average audience of 9.5 million tuned in to watch The Voice, compared with BGT's 9.1 million, excluding ITV+1 viewers.
Cowell praised BBC One controller Danny Cohen via Twitter, saying: "A slightly irritated congrats to Danny and the BBC".
However, the audience for Britain's Got Talent peaked at 11.9 million, which was considerably higher than The Voice's peak of 10.7 million.
During the overlap of the two programmes, only 6.6 million people were watching ITV, compared with the BBC's 10 million.
An ITV spokesman said: "At its peak, 11.9 million people watched Britain's Got Talent this weekend; the highest recorded audience figure on any channel so far this month.
"Viewing figures for BGT are up year-on-year. By moving to 20:30 BST, we are ensuring that as many people as possible have the opportunity to watch the show in full."
Last month it was announced that ITV was bringing forward the launch date of Britain's Got Talent to the same night as the first episode of The Voice.
The BBC said it was "disappointed" by the move.