Andrew Lloyd Webber sells Palace Theatre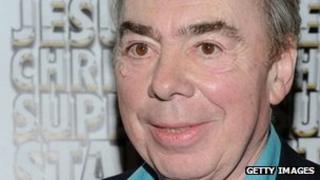 Andrew Lloyd Webber has sold London's Palace Theatre in order to fund refurbishment on his London Palladium venue.
Lord Lloyd-Webber, who has owned the Palace since 1983, said: "I am selling the Palace Theatre because I love it."
The 64-year-old said he was selling up because he wanted a "secure theatrical future for the Palace".
The famous venue has been sold to Nimax Theatres for an undisclosed sum.
'Future custodians'
Nica Burns, who co-owns the theatre group with Max Weitzenhoffer, said: "We are honoured that Andrew Lloyd Webber has entrusted us with the guardianship of this iconic building with its extraordinary history and will cherish it as he does.
"We have longed to own a major musical house and it doesn't get much better than the Palace."
Lord Lloyd-Webber said the Palace, which is located on London's Shaftesbury Avenue, had been his "home for nearly 40 years".
He wrote large sections of his popular musical The Phantom of the Opera in the offices upstairs.
In a statement, Lord Lloyd-Webber said: "I want to see a secure theatrical future for the Palace as I do the other historic theatres that I own through Really Useful Theatres. I can think of no better future custodians of Britain's finest Victorian theatre than my friends Nica and Max.
"Secondly, the proceeds of the sale will be used to repay debt and to strengthen the balance sheet of Really Useful Theatres.
"This will allow me to plan the future of the Theatre Royal Drury Lane and continue work on refurbishing The London Palladium."
The Palladium has just undergone a refurbishment programme, which saw four of the five of its facades restored.
The theatre, which originally opened in 1891 as the Royal English Opera House, has hosted some of the most famous West End shows, including Jesus Christ Superstar, Les Miserables and Monty Python's Spamalot.