Countdown reunites Apprentice advisers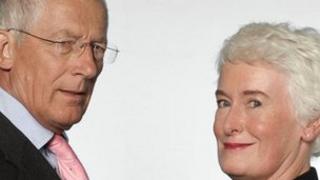 Former Apprentice star Margaret Mountford is to join host and ex-colleague Nick Hewer as a guest on Channel 4 game show Countdown.
Mountford will feature alongside words expert Susie Dent in a week-long stint in the show's "Dictionary Corner".
The 60-year-old, who starred alongside Hewer as Lord Sugar's adviser, quit the BBC One show in 2009.
Mountford said she was looking forward to seeing how her "old friend" is "getting on in his new career".
She will appear on the show from Monday 16 April.
"It feels wonderful and relaxed being on the Countdown set," said Mountford, who recently completed a PhD.
"It is fun to be with an old friend with such a dry sense of humour and nice to check up on how he's getting on in his new career."
Hewer, 67, took over from Jeff Stelling as Countdown host in January this year. He continues to star in The Apprentice - currently in its eighth series.
"Countdown is great fun, often because of the personality of the dictionary corner guests," said the former PR consultant.
"The imminent arrival of my old Apprentice colleague Margaret promises to be the week of the year as far as I'm concerned."