Jodie Whittaker ready for Antigone at the National Theatre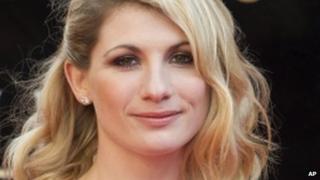 As Jodie Whittaker flexes her acting muscles in rehearsals for Antigone at the National Theatre, she is also limbering up for the London Marathon.
Backstage at Sunday's Olivier awards, Jodie Whittaker is holding a glass of champagne and bubbling with enthusiasm about her latest project.
The Huddersfield-born actress has just started rehearsals for Sophocles' Greek tragedy Antigone , in which she plays the lead role opposite Christopher Eccleston as Creon, the ruler of Thebes.
Eccleston last performed at the National in 1990, in a production of Abingdon Square. The same year he also starred opposite Sir Ian McKellen in Bent.
Directed by Polly Findlay, Antigone opens at the National's Olivier Theatre at the end of May.
Set in a city ravaged by civil war, the story begins with Creon refusing to bury the body of Antigone's rebellious brother. When she defies his edict, Creon - her uncle - orders the young Antigone to be buried alive.
Whittaker was so keen to get the role that she sent Findlay an audition video from the US of her reciting one of Antigone's big speeches. Then came the call back to say she'd got the part.
"Bizarrely, I was in a car park in Arizona when Polly told me on the phone," says Whittaker.
Whittaker's excitement is palpable. Asked what getting a classic role like Antigone means to her, she opens her mouth but all that emerges is a series of gasps.
She says eventually: "You'll have to say I stuttered for 20 seconds."
Antigone is Whittaker's biggest theatrical venture to date. Her other theatre work includes plays at Shakespeare's Globe, Trafalgar Studios, and the Almeida.
But she is best known for her screen work, with recent film appearances including One Day and sci-fi comedy Attack The Block. She made her screen debut in 2006 opposite Peter O'Toole in the comedy drama Venus.
TV work includes Cranford, The Night Watch, Marchlands, and The Accused, also with Eccleston.
Whittaker says Antigone will be set in a "quite a specific world" and that her character will sound like she comes from West Yorkshire.
"I auditioned in my accent, and I've used it for the first week and everyone seems not that terrified by it."
Pacing herself
As well as the acting challenge ahead, Whittaker is in training for Sunday's London Marathon.
She holds up her champagne glass: "This is my one drink this weekend and then I'm going to be dry for the rest of the week."
She's running in aid of learning disability charity Mencap - her nephew was born last year with Down's syndrome.
Having completed the New York Marathon in 2007, the 29-year-old actress has good reason to be confident about crossing the finishing line on 22 April.
"One of the first things I said to my director, Polly, when I got the part was that on 23 April I might not be able to walk," Whittaker confides.
"But I'll be wearing a medal."
Antigone is at the National Theatre from 23 May - 21 July