Justin Bieber denied number one by Carly Rae Jepsen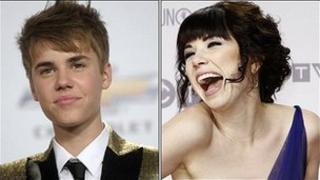 Pop star Justin Bieber has been denied his first UK number one by Canadian singer Carly Rae Jepsen, who he helped get a record deal.
His single, Boyfriend, entered the Official UK Chart at number two, while Jepsen's Call Me Maybe spent a second week at the top.
Jepsen was signed to Bieber's label, Schoolboy Records, in February.
"The fact that we are able to have that friendly competition is blowing my mind," she told MTV last week.
"I wouldn't be here without his support and his help, and he is so great about it."
Bieber even gave Jepsen's song a helping hand, after a humorous video of him and his friends, including Disney stars Ashley Tisdale and Selena Gomez, dancing to the record went viral.
He will not be too disappointed with coming second place to Jepsen, as Boyfriend is still the 18-year-old's biggest hit to date in the UK.
It was the highest of four new entries in this week's Top 10.
Usher returned to the charts with brooding R&B track Climax, at number four. Power pop trio Fun made their first chart appearance with We Are Young, at number seven, followed by UK rapper Sway, whose single Level Up enters the chart at eight.
Further down the chart, soul singer John Legend made a reappearance, after his song Ordinary People was featured prominently in Saturday's edition of The Voice.
The single returned to the countdown at 27 - which was its highest position when it first came out in 2007.
In the album chart, Adele has returned to the top spot, taking the crown from Nicki Minaj's Pink Friday: Roman Reloaded.
Adele's record has now spent 64 weeks in the chart, 22 of them in pole position.
Hotly-tipped rock group Alabama Shakes also scored a new entry at three with their debut album Boys and Girls.
However, album sales reached their lowest ebb of the 21st Century. A total of 1,446,218 albums were sold - less than any other seven-day period since 2000.
Adele sold 22,235 copies of 21 - the lowest weekly tally of its chart career.
Madonna fared even worse. A fortnight after it reached number one, a meagre 7,194 copies of her album MDNA were bought.
It is the first of Madonna's studio albums not to be in the Top 10 on its third week on the chart since 1984, when Like A Virgin spent its opening weeks in the low 60s.
Poor sales were partly due to the Easter holiday, said trade publication Music Week .
The situation is likely to improve this weekend, as music fans are enticed into shops by the limited edition releases available for Record Store Day.
Radiohead, Kate Bush and Abba are among the artists releasing new or rare tracks for the annual event, which supports independent record shops.