Oliviers 2012: Celebrations and surprises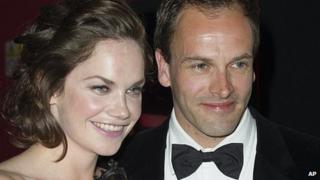 Matilda the Musical may have come top of the class at the Olivier Awards, but there were many other winners with cause to celebrate. Here's a taste of what went on backstage at the Royal Opera House.
Ruth Wilson, who won best actress for her role as a former prostitute in Anna Christie, told how she took co-stars Jude Law and David Hayman on a trip out to sea to prepare for the play.
"My uncle has an an old-fashioned fishing boat moored in Gosport," she explained. "So, I invited David and Jude, and we spent the night on a boat with my uncle and auntie in a force six gale. It was brilliant.
"We've got some film footage of us all screaming like kids because were getting slapped in the face by the sea."
In Eugene O'Neill's Anna Christie, the sea is ever-present, shaping the destiny of the human characters.
It was a second Olivier award for Wilson, who previously won for A Streetcar Named Desire at the Donmar Warehouse in 2010.
Anna Christie, also at the Donmar, beat Flare Path, Much Ado About Nothing, and Noises Off to win best revival.
Wilson will soon be seen in a film adaptation of Anna Karenina and is currently filming The Lone Ranger, with Johnny Depp as Tonto and Armie Hammer as the eponymous hero.
"It's a big production, it's completely wild and different," explained Wilson. "I have to fall off a train and there's lassoo-ing and riding wagons."
But she would be happy to return to the Donmar: "I love that space. There's something about the relationship with the audience - they are so close and so intimate and you can't get away with anything as an actor. It's very scary but exhilarating.
"I will go back. I've won two awards there so it's got to be doing something right."
Return of Frankenstein?
The best actor prize was shared by Benedict Cumberbatch and Jonny Lee Miller for Frankenstein.
The pair alternated in the roles of Victor Frankenstein and The Creature on different nights in Danny Boyle's production at the National Theatre.
Both were named best actor at the Evening Standard Theatre Awards in 2011 but this is the first time either have won an Olivier.
"It was wonderful to be able to share ideas with another actor and to not be precious," said Miller who accepted the award on behalf of Cumberbatch who wasn't at the Oliviers ceremony.
"We would take from each other, and some stuff we disagreed about - you have to lose your ego. I'm not sure that everyone would be able to work like that."
Miller also said there was some "small talk" about the possibility of the show being re-staged somewhere else.
"Benedict's been so busy and Danny's got this small thing called the Olympics going on, so it's been a bit of an impossibility. It seems like a huge mountain to climb again," he said.
Frankenstein's lighting design, by Bruno Poet, also won an Olivier.
Theatrical hat-trick
Regent's Park Open Air Theatre notched up up its third victory in three years for best musical revival.
This year it went to hit musical comedy Crazy For You. Previous wins were for Into The Woods in 2011 and in 2010 for Hello, Dolly!
"I feel it's a little bit greedy. We weren't expecting it," laughed director Timothy Sheader, who collected the award with producer William Village.
"We're very proud and feel very supported by the industry."
Sheader's Crazy For You has been the open air theatre's most successful production and the first to transfer into the West End.
His next big challenge is taking Into The Woods to New York's Central Park in June, where his all-American cast includes actress Amy Adams - most recently seen singing and dancing in The Muppets movie.
"I'd seen her in several films and I knew that she'd started out on the stage so we phoned her up and she happened to be free," Sheader said.
After that, Sheader will be making his National Theatre debut directing the Count of Monte Cristo, Richard Bean's follow-up to his comedy hit One Man, Two Guvnors.
"I seem to be one of the few people who've read all of the book," Sheader admitted. "I've got a very wet copy that I've read for years in the bath."
Who lost out?
So which nominees went home empty handed?
Ghost The Musical and comedies The Ladykillers and One Man, Two Guvnors all failed to turn any of their five nominations into victories.
The National's musical London Road - about the murder of prostitutes in Ipswich in 2006 - and Singin' in the Rain at the Palace Theatre both had four nominations which also failed to convert into wins.
There was nothing either for musicals Betty Blue Eyes or South Pacific, which both had three nods.
The prize for best new musical - won by Matilda - was presented by veteran actress Barbara Windsor.
On the red carpet before the ceremony, the ex-EastEnders star said she was a huge fan of the young actresses in Matilda and recalled her own debut in the West End 60 years ago.
It was 1952, and she joined the chorus line, aged 14, of musical Love from Judy at the Saville Theatre.
"For two and a half years, I played an American orphan and it taught me my trade," she said.
"I was playing a 10-year-old and about two years into the show I had to get a lump of elastic to put around my chest because it suddenly grew out!"