Sex Pistols re-releasing God Save The Queen for Jubilee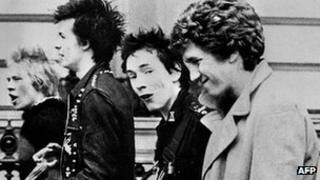 The Sex Pistols protest song God Save The Queen is to be re-released 35 years after its debut, in time for the Diamond Jubilee in June.
The track, which featured a defaced image of the Queen on the original cover, was released during the Silver Jubilee in 1977 and was subsequently banned by the BBC.
Nevertheless, it entered the chart at number two.
The Sex Pistols' label, Universal, will also re-release the band's debut album.
Never Mind The Bollocks, Here's The Sex Pistols topped the UK album chart and is widely regarded as a seminal punk album.
Although the single missed out on the number one slot, the band's manager Malcolm McLaren later claimed God Save The Queen had actually outsold the official chart-topper - The First Cut Is The Deepest by Rod Stewart.
The controversial lyrics included the lines "God save the queen / She ain't no human being / And there's no future / In England's dreaming".
The re-release has been dismissed by some as a publicity stunt but music journalist John Robb insisted the song still resonates.
Speaking on BBC Breakfast, he said: "People always misinterpret the song. Yes, it's anti-monarchy but it's also about the future and they're singing about a generation that felt like a lost generation.
"It fits in now doesn't it?"
The news has been met with mixed reaction online.
Several Facebook campaigns are trying to get the song to number one but on Twitter, Cydara wrote: "Johnny Rotten needs to stick to selling butter. Blatant profiteering from God Save The Queen is about as Punk as the Pope."
A user called The Thumbs Up added: "Thought God Save The Queen was a pretty rubbish song first time around. Very predictable re-release for a frankly mediocre song!
Meanwhile, US folk singer Neil Young has announced he is recording a version of the actual British national anthem God Save The Queen for a new album.