Virgin Media pulls David Tennant TiVo advert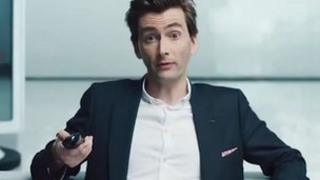 Virgin Media has pulled an advert featuring former Doctor Who star David Tennant after the BBC complained about its references to the sci-fi series.
The advert shows Tennant using Virgin's TiVo service to catch up on old episodes of the BBC One show.
However BBC Worldwide complained it appeared to be using the brand to endorse the service.
Virgin Media agreed to no longer broadcast the advert "as a gesture of goodwill".
During the ad, Tennant made a reference to how TiVo was good for watching sci-fi, while the Doctor Who logo and a description of the programme was clearly visible on screen.
Under the BBC's guidelines, it is not allowed to commercially endorse third parties.
After receiving the complaint, Virgin Media had initially removed the Doctor Who branding from the advert, but has now axed it completely.
In a joint statement, the BBC and Virgin Media said: "Virgin Media has listened to concerns raised by BBC Worldwide about perceived commercial endorsement by the BBC/a BBC brand relating to the recent Virgin Media advertisement.
"As a gesture of goodwill Virgin Media has agreed to withdraw transmission of the advertisement and BBC Worldwide is now satisfied that the issue has been addressed."
Two other Virgin Media ads featuring Tennant will continue to be shown.