Bringing Liverpool's Sea Odyssey giants to life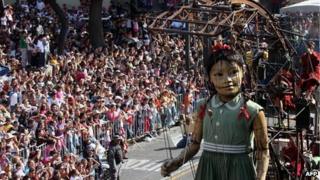 More than 250,000 people were expected on the streets to watch three giant puppets play out a piece of city-straddling street theatre over three days in Liverpool at the weekend.
On a disused dock on the River Mersey, a desolate spot away from the gaze of the people of Liverpool, a girl stands, looking down as six burly men struggle to put on her shoe.
Or screw it to her foot using a power drill, to be precise.
She has just had a wash and got dressed - part of the final rehearsals for her Liverpool show, titled Sea Odyssey.
It took 10 people to tug the ropes that moved her arms so she could wash her hair and scrub her body, with some then clambering up ladders to fasten her clothes.
The girl is 30 feet (9m) tall and made of wood, but as she blinks, opens her mouth and looks around, patiently watching the workers scurrying away below, it becomes tempting to think that a part of Lilliput has come to Liverpool.
Her face movements are subtle and realistic, and her eyes - the window to the soul, after all - are beguiling enough to tempt you to suspend your disbelief.
The workers, from French street theatre company Royal De Luxe, actually refer to themselves as Lilliputians after the race of tiny people who come across a giant in Jonathan Swift's 18th Century novel Gulliver's Travels.
Some 110 of these Lilliputians are bringing the girl and two other huge puppets to life from Friday as their large-scale show takes over the streets of Liverpool.
Except, I get into trouble when I call them puppets.
"Never," exclaims Royal De Luxe executive director Gwenaille Raux. "Never puppets. They are giants. Because they are alive!"
Royal De Luxe started staging eccentric open-air theatre spectacles in 1979 and built its first puppet - sorry, giant - in 1993.
Based in Nantes, they have gained a global reputation after taking their creations to cities including Barcelona, Berlin and Reykjavik.
The company estimates that two million people turned out to see the giants in Santiago, Chile, in 2007, while three and a half million saw the show in Guadalajara, Mexico, in 2010, they say.
They have been in the UK once before, when their 42-ton mechanical elephant roamed through London's Trafalgar Square and Piccadilly Circus for their show The Sultan's Elephant in 2006. More than a million people saw that.
"We want to tell a story to a city," says Raux when asked why the company uses giants. The streets become the stage and the stories are tailored to each city.
To mark the 20th anniversary of the fall of the Berlin Wall in 2009, the girl giant went to meet her 50ft (15m) male counterpart carrying replicas of letters confiscated by the Stasi, East Germany's secret police.
In Liverpool, the girl is representing a real schoolgirl from the city, May McMurray, whose father was a steward on the Titanic. She wrote a touching letter to her father the day before the ship sank, and the story goes that the larger giant is her uncle, a diver, who has found his reply.
Along with the girl and her uncle, there will be a third giant - a dog called Xolo, which is the size of a van, and which plays with the girl, its eyes darting, tail wagging and ears twitching as it goes.
"We know the public will be in love with the giant, Xolo and the diver," says Raux. "Every giant exudes a very different emotion. It's a universal language, it's the language of emotion."
She speaks about occupying the place where reality and the imagination meet. The moment where something magical seems to happen creates a "collective memory for the city", she says.
Liverpool has seen over-sized street theatre before, when a giant spider appeared on the side of a tower block during the European Capital of Culture celebrations in 2008 before stalking the city and disappearing into the Queensway Tunnel. That show was created by rival company La Machine.
But Royal De Luxe have got the chance to stage a show in Liverpool thanks to funding set aside to keep up the momentum from the Capital of Culture year. This show is costing £1.5m.
The largest giant takes 31 people to control at any one time, using ropes, pulleys and motors. The girl is accompanied by 24 Lilliputians, while the dog has a crew of 21.
Paloma Gutierrez, a 30-year Chilean acrobat who joined the company after seeing the spectacle in Santiago, says being part of the larger giant's crew is like being on "a big pirate boat, working together".
The girl's eyes are moved by Jean-Yves Aschard, a veteran of the company who uses a hand-held unit from a child's remote control car.
"Over the years I changed the system," he says. "Before it was with cables and now it's with remote control.
"I wanted it to be realistic, not robotic. That's very, very important."