Sir Jimmy Savile's belongings to be sold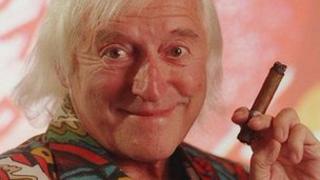 An auction of Sir Jimmy Savile's possessions, including his tracksuits and gold jewellery, is to be held in Leeds this summer.
Items from the DJ's five homes, including flats in Leeds and Scarborough and a cottage in Glencoe, Scotland, will form part of the sale.
The sale is expected to be held at Saviles Conference Hall in Clarence Dock in June.
Proceeds will go to The Jimmy Savile Charitable Trust.
Star lots are expected to include the last Rolls Royce Corniche of its type to be made in Britain, a 1960s Italian Bubble Car and a collection of unique pop memorabilia.
However virtually all of the houses' contents, including pots and pans, mugs and ornaments and exercise machines, will go under the hammer.
Sir Jimmy's nephew told the Yorkshire Post : "I am all in favour of the auction, as it will help to increase the funds of Jimmy's charitable trust.
"People collect many things for various reasons and it is nice to think that items that could easily be thrown away might be of interest to people, and so help his charity."
Sir Jimmy died in October last year at his home in Leeds, aged 84.