Positive reviews for James Corden's Broadway play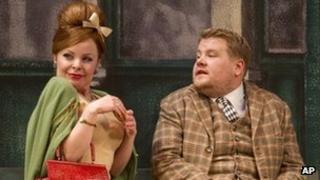 The opening of the National Theatre's production of One Man, Two Guvnors on Broadway has been met with largely positive reviews.
The comedy, starring Gavin and Stacey actor James Corden, opened on Wednesday at the Music Box Theater.
The New York Times' Ben Brantley said: "The production never justifies that sinking sensation that arrives when I hear the words 'British comedy'."
The Hollywood Reporter's David Rooney called Corden a "supreme jester".
He added: "Striking an ingenious balance between meticulous planning and what plays like anarchic spontaneity, Nicholas Hytner's production has been a deserved success in London.
"With virtuoso ringmaster James Corden on hand to juggle the demands of dual employment while wrapping the audience around his pudgy finger, the show now looks set to slay Broadway, too."
'Audience participation'
Lisa Schwarzbaum described the production in Entertainment Weekly as "utterly, profoundly, ridiculously British in its high-low antics and wordplay".
She added: "There's no need to brush up on Commedia dell'Arte, Christmas pantos, or music-hall ditties to enjoy One Man, Two Guvnors. You'll know smart hilarity when you're guffawing at it."
The New York Post's Elisabeth Vincentelli wrote: Pratfalls, spit takes, puns, improvisation, winking asides, slamming doors, clowning, audience participation, double entendres and triple takes: One Man, Two Guvnors leaves no comic stone unturned.
"These guys just want one thing, and it's to make us laugh. They succeed brilliantly."
Joe Dziemianowicz described Corden in the New York Daily News as "mad talented, adorable and hilarious".
But writing in the The Wall Street Journal Terry Teachout wrote: "It's a decidedly mixed bag, a very long show, with one brilliant scene that doesn't compensate for the acres of tedium that surround it."
One Man, Two Guvnors marks Corden's return to Broadway six years after he played Timms in The History Boys.
Speaking to the Washington Post newspaper , the actor said: "My career has taken turns which I've only ever dreamt of.
"I've been so blessed to have so many different things. But there's a big part of me that has felt like everything I've done has tried to be a quest to try to come back and work here again.
"We've got five months to go and I'm already dreading leaving."