Alabama Shakes score first record shop number one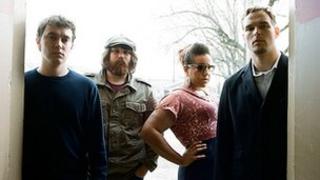 US rock group Alabama Shakes have topped the first ever Official Record Store Chart.
Their album, Boys And Girls, beat competition from Adele, Trembling Bells and Graham Coxon to take the top spot.
The chart, which reflects sales at the UK's independent record shops, has been launched to coincide with International Record Store Day on Saturday.
DJ Steve Lamacq announced the top 10 on BBC 6 Music. Seven of the records were released on independent labels.
By contrast, only two albums in the mainstream top 10 are not on a major label - Adele's 21 and Boys And Girls by Alabama Shakes.
Led by singer and guitarist Britanny Howard, the four-piece are signed to London-based Rough Trade Records.
Label boss Geoff Travis said the number one made him "very proud".
"Alabama Shakes deserve every accolade and success that may come their way. They do it right."
Appropriately, given the nature of the chart, Rough Trade Records started as an off-shoot of the Rough Trade record store in Ladbroke Grove, north London.
The shop is one of more than 230 taking part in Saturday's Record Store Day.
The celebration, established in the US in 2007 and now in its fifth year in the UK, will be marked by a number of events aimed to get music fans into their local independent shops.
The Idea Generation Gallery in Shoreditch, London, will host an exhibition of one-off record sleeves, called Secret 7" .
Music fans can pay £40 to purchase one of the vinyl recordings, but will not discover what music they have bought until they take it home and play it.
Glasgow's Monorail Music will host a special performance by Edwin Collins, while Piccadilly Records in Manchester will have a DJ set from Charlatans' frontman Tim Burgess.
Other shops are offering discounts, acoustic sets and homemade cakes.
But the main draw everywhere is the sale of rare vinyl.
Paul McCartney, David Bowie, Kate Bush, Abba, The Flaming Lips and Foster the People are just a small sample of the artists preparing to release limited edition vinyl and rare recordings.
Vinyl record sales reached a six-year high in 2011. A total of 341,000 albums were sold, with Radiohead's The King Of Limbs the best-selling record of the year.
Lana Del Rey's Born To Die is the biggest-selling record so far this year.
The Record Store Chart is compiled by the Official Chart Company and, from next week, will be revealed on their website every Sunday, at the same time as the mainstream Top 40.