Adele retains number one spot in the UK album chart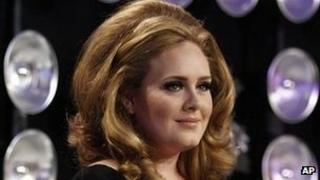 Adele has held on to the top spot in the album chart with 21, the biggest-selling release of last year.
Last week 21 toppled Nicki Minaj's Pink Friday: Roman Reloaded, meaning it has now spent 65 weeks in the chart, 23 of them at number one.
On Tuesday, it was also nominated for the Ivor Novello best album award.
Single Rolling In The Deep was nominated for best song musically and lyrically and for most performed song, as was Someone Like You.
Album 21 is Adele's second and has won numerous awards. It also recently overtook Dire Straits' Brothers In Arms in the list of best-selling UK albums.
It has now sold more than 4,142,000 copies in the singer's home country, making it the sixth biggest-selling album of all-time.
American singer-songwriter Jason Mraz entered the album chart at number two with Love Is A Four Letter Word.
According to the Official Charts Company Twitter feed , just 44 copies separated the top two artists.
Pink Friday: Roman Reloaded fell one place to three while Lana Del Rey took the fourth spot with Born To Die. Jessie J was at number five with Who You.
In the singles chart Carly Rae Jepsen held on to the number one spot, according to the Official Charts Company.
The Canadian's song Call Me Maybe has now spent three weeks in pole position.
Conor Maynard entered the singles chart at number two with his debut track Can't Say No. In third place was We Are Young by US indie pop band Fun, up four places from last week.
John Legend's Ordinary People made a big leap from 27 to four, while Jessie J's Laserlight also rose considerably from 26 to five.