Bee Gee Robin Gibb's recovery 'confounds' doctors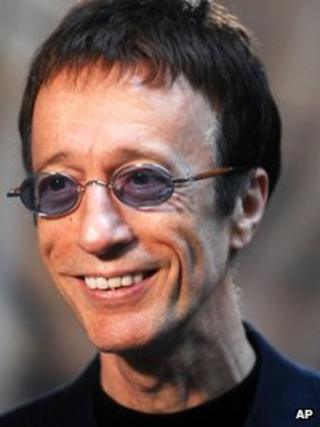 Doctors treating Bee Gees star Robin Gibb say they have been "confounded" by his recovery since waking from a coma.
The singer's physician Dr Andrew Thillainayagam said he was conscious, lucid and talking to his loved ones, at The London Clinic in central London.
He said the "exhausted" star had shown "extraordinary courage, iron will and deep reserves of physical strength".
Gibb, 62, fell into a coma last week after contracting pneumonia in his battle against colon and liver cancer.
Dr Thillainayagam of Imperial College said his patient had "responded extremely well" to treatments by his team of surgeons.
'Malnourished'
"It is testament to Robin's extraordinary courage, iron will and deep reserves of physical strength that he has overcome quite incredible odds to get where he is now," he said.
"Robin is fully conscious, lucid and able to speak to his loved ones. He is breathing on his own, with an oxygen mask.
"He is on intravenous feeding and antibiotics. He is of course, exhausted, extremely weak and malnourished."
The doctor said his immediate goal was to ensure his swallowing mechanism was safe enough to allow him to eat and drink.
He also said he hoped he would recover enough strength to breathe effectively, without needing high levels of oxygen by mask.
Once that happened, he may be able to be moved from the intensive care unit to the ward to begin the process of nutritional and physical rehabilitation, he added.
Dr Thillainayagam praised Gibb's wife Dwina, and their children Robin-John, Spencer and Melissa for their "determination never to give up on him".
"The road ahead for Robin remains uncertain but it is a privilege to look after such an extraordinary human being," he said.
Gibb's family, who have held a constant bedside vigil for him, have been playing his favourite music to try to rouse him.
His wife has revealed that he cried when she played him Roy Orbison's 1962 song Crying.
Fellow Bee Gees star Barry Gibb had also been singing to his brother at his bedside.
The British-born singer had surgery on his bowel 18 months ago for an unrelated condition, but a tumour was discovered and he was diagnosed with cancer of the colon and later of the liver.
It had been thought his cancer was in remission as early as last month.
Robin Gibb's musical career began when he formed the Bee Gees with his brothers Barry and Maurice in 1958.
The group is among the biggest-selling groups of all time with hits spanning six decades including Stayin' Alive, How Deep Is Your Love, Massachusetts, and Night Fever.