Robbie Savage's Strictly dance complaints dismissed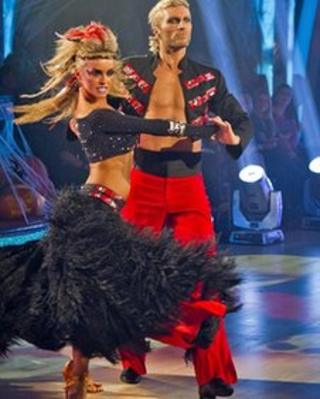 Former footballer Robbie Savage's hip-thrusting performance on Strictly Come Dancing last year did not breach guidelines, the BBC Trust has ruled.
Almost 500 people complained to the BBC over the routine, danced to Michael Jackson's Bad, in November.
The BBC Trust's editorial standards committee said it understood viewers may have found the routine "tasteless and vulgar".
But it ruled that the routine met "generally accepted standards".
The episode in question featured Savage emulating Jackson's pelvic thrusts as part of a Halloween special, finishing his performance by leaping onto the judges' desk.
The BBC editorial complaints unit initially dismissed the complaints by saying viewers would have been familiar with Jackson's trademark move as "a humorous punctuation rather than something that has sexually explicit overtones".
But two viewers contacted the BBC Trust to appeal against the decision, arguing that the performance was "in bad taste" and "inappropriate in a programme shown at 7pm during family viewing time".
The Trust's editorial standards committee ruled that the routine did not cause harm or offence to children because the routine "was not sexually aggressive and would be viewed more as pantomime behaviour" and "did not exceed audience expectations".
"The committee concluded that the dance routine met 'generally accepted standards', but that the final hip thrust on the judges' desk was at the margins of acceptability in a programme appealing to a wide family audience," it added.
Torchwood ruling
Meanwhile, the Trust also ruled that a sex scene in an episode of Torchwood did not breach BBC guidelines.
More than 1,200 viewers complained about the scene, which featured characters Captain Jack and Angelo Colasanto, saying it was screened too close to the 21:00 watershed and was inappropriate for children as it featured two men.
The Trust said the scene was "appropriately handled" and "was not prurient or exploitative and was not sexually explicit".
"The committee believed that most viewers are aware of the purpose of the 9pm watershed and, given the nature of the drama and its scheduling, it did not exceed audience expectations," it said.
It added that while a warning would have been useful beforehand, "the development of the scene and the established context of the programme meant that viewers would have had sufficient information to make a decision".