Stage set for Coronation St musical Street of Dreams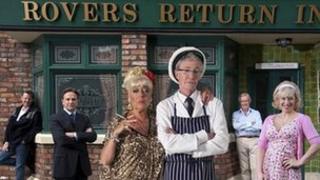 Stars of Coronation Street past and present will be joined by a 38-strong West End-style chorus and a 25-piece orchestra as the TV soap is transformed into an all-singing, all-dancing arena musical.
Five times a week, millions of people settle down to get the latest dose of death, family strife, cobble-based conflict, comedy and everything else that goes into Coronation Street's exaggerated reflection of reality.
So it seems an unlikely step for ITV to call in the dancing girls and turn the soap into a stage spectacle that its creator says has comparisons with Moulin Rouge.
But they have, and Street of Dreams is due to open at Manchester Arena on 9 May, complete with an 84ft (26m) set recreating the famous terrace street, plus flamboyant frocks and rousing musical numbers with titles like Eh Chuck and Nowt A Bit Of Lippy Couldn't Solve.
The live show will feature such Street stalwarts as William Roache (who plays Ken Barlow), Julie Goodyear (Bet Lynch) and Kevin Kennedy (Curly Watts) and has taken inspiration from some of the most famous scenes in the soap's 51-year history.
The plan was first dreamt up four years ago, when The Sun newspaper ran a story suggesting that a Coronation Street musical was in the pipeline.
'Brilliant' material
It was not - it was just a speculative headline after then-ITV chief executive Dawn Airey said the broadcaster wanted to increase its revenue from other sources, such as live shows.
But it did put the idea into composer Trisha Ward's head. "At first, I read it and thought, oh you couldn't do that," she says of the concept of creating a Coronation Street musical.
"I thought about it and I thought about it, because I know Coronation Street very well, and I thought, oh my God, that would be absolutely brilliant.
"And then I started to write songs and as soon as I started to write the songs I knew it was going to work because the source material was so brilliant."
After deciding the soap could make the leap into the larger than life world of song and dance, she sent an email to Airey.
The ITV boss replied, saying the Coronation Street musical idea was a joke. But Ward persisted.
"Again, she said, 'I was kidding'," Ward recalls. "And then eventually we got the meeting, and so it began."
"If I'm being honest, I was quite sceptical," admits Coronation Street executive producer Kieran Roberts, who was given the task by Airey of handling that first meeting with Ward.
"I went to the meeting thinking, I'll fob them off. I'll send them packing.
"But I heard a couple of the songs that she'd written, I got a sense of Trisha's genuine passion for Coronation Street, and two minutes into that meeting I was thinking, you know what, this really could be good."
Roberts is hoping the idea will appeal to soap addicts in sufficient numbers to fill arenas in Manchester, Dublin, Belfast and Newcastle, where the show will be seen in May. It could then stay on the road if it goes down well.
"We need to look for different revenue streams," Roberts says. "ITV makes a lot of money from advertising and traditional forms of revenue, but as we move forward we have to find different forms of revenue.
"So the idea of doing something where people would actually come and buy a ticket is very interesting commercially."
New revenue stream
He is careful to stress that they have put the creation of an "amazing" show before the bottom line.
"We've had to be very careful and not get caught up in a purely commercial argument because there's a danger that the show wouldn't work," he says.
"Hopefully, when this show's established, it will also [work] commercially and provide an interesting new revenue stream for ITV."
It is the latest theatre show to take inspiration from the soap. Last year, Corrie! crammed the show's five decades into two hours and proved that the ups and downs of life in Weatherfield could succeed on stage.
And a play entitled The Queen of the North, about Elsie Tanner actress Pat Phoenix, gets its premiere at the Bolton Octagon on Thursday.
In Street of Dreams, many of the songs have been taken from an album written by Ward for the soap's 50th anniversary in 2010.
They include numbers about Stan and Hilda Ogden's second honeymoon at the Savoy Hotel (called Woman Stanley Woman), killer Richard Hillman's confession (Norman Bates with a Briefcase) and Curly naming a star after Racquel (Your Star Shines So Bright).
Street of Dreams will feature Paul O'Grady as the narrator plus Street stars Kym Marsh, Katy Cavanagh and Brian Capron as well as Jodie Prenger, winner of TV talent show I'd Do Anything.
Roberts believes the soap lends itself to the stage because the language and feel of Coronation Street over the years has been "very theatrical and also quite musical".
"I think if you go back to the very early episodes that [creator] Tony Warren wrote, there is music, I think, in the language," Roberts says.
"So I think the transition from the screen to stage in the form of a musical is maybe not such a strange leap."