Ewan McGregor joins Cannes jury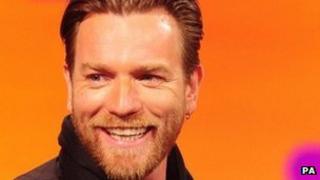 Ewan McGregor, The Descendants director Alexander Payne and Wuthering Heights' Andrea Arnold are among the jury at this year's Cannes Film Festival.
Led by Italian director Nanni Moretti, the line-up will also include French actress Emmanuelle Devos and fashion designer Jean Paul Gaultier.
German actress Diane Kruger, Haitian director Raoul Peck and Palestinian actress Hiam Abbass complete the jury.
The festival opens on 16 May, with Bill Murray drama Moonrise Kingdom.
The Wes Anderson film, which co-stars Bruce Willis and Tilda Swinton, is one of 22 films competing for the Palme d'Or. The nine jury members will select the winner.
British director Andrea Arnold has twice been nominated for the Palme d'Or, for Red Road (2006) and Fish Tank (2009). In both cases, she won the Jury Prize. She won an Oscar in 2003 for her short film Wasp.
Fellow Oscar winner Alexander Payne - the only American on this year's jury - was previously nominated for the Palme d'Or for his Jack Nicholson drama About Schmidt in 2002.
Festival director Thierry Fremaux credited Payne, whose films include the critically acclaimed Election and Sideways, with bringing about "a kind of revival of American cinema".
Fremaux added that the presence of Gaultier - the only non-industry member of the jury - reflected "a tradition of inviting people who we know are cinephiles but who are not necessarily in cinema".
The 60-year-old designer has created the costumes for many of Pedro Almodovar's films.
Last year's Palme d'Or was won by veteran US filmmaker Terrence Malick, for The Tree of Life.
However, the prize-giving was overshadowed by the decision by festival organisers to impose a lifetime ban on director Lars Von Trier, after he told a press conference he could sympathise with Hitler.