Redford slams Cameron's 'narrow' view of British film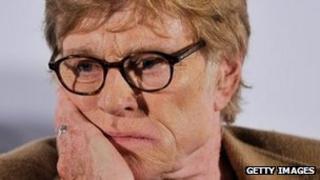 Robert Redford has criticised Prime Minister David Cameron after he suggested that UK film-makers should focus on commercially viable movies.
Earlier this year, Mr Cameron suggested that the British film industry should concentrate on mainstream films.
Redford, who is in London to showcase independent film as part of the 4-day Sundance London festival, called it "a very narrow view".
"That may be why he's in trouble," joked the veteran Hollywood actor.
In January, Mr Cameron said he wanted to help "UK producers to make commercially successful pictures that rival the quality and impact of the best international productions".
"I don't want to say it speaks of the man," said Redford on Thursday. "But I think that view is a very narrow one and doesn't speak to the broad category of film-makers and artists in the business."
Redford, 75, was speaking to reporters at the launch of Sundance London, beginning on Thursday at the O2 arena in Greenwich.
The programme features 22 independent American films, including documentaries, feature films and short films, and is designed to represent "the alchemy" of Sundance.
"Sundance started as a path for new artists, new voices that wouldn't otherwise have a chance to be heard," said Redford, whose films include All the President's Men and The Great Gatsby.
"The festival has grown to such a degree that we wanted to move internationally," he added.
"We wanted to bring the alchemy of what we do in Sundance, and see how it was received - that's why we're here."
'Fall-out'
As a champion of independent film, the festival is credited with bringing such films as Reservoir Dogs, Blood Simple and Sex, Lies and Videotape to global attention.
While Redford insisted it was not his intention to "deny or eliminate mainstream film", he admitted some misgivings about technological advances like 3D.
"I am not a particular fan of 3D at the moment. I think technology has probably got a little too far... too fast," he said.
"But I think the fall-out will occur on its own, organically. I think the audiences will decide," he went on
"Time will tell whether it really works or not, and I'm not sure it will."
His comments are in stark contrast to Hollywood contemporary Martin Scorsese, who has been fulsome in his praise of 3D and had great success with the medium in his Oscar-winning film Hugo.
No indication has yet been given as to whether Sundance London is a one-off or will return in future years.
Redford would not be drawn on the subject, opting for a wait-and-see approach. Yet he admitted to being wary of "losing the soul" of Sundance.
"Success has a dangerous side to it, something that I have been aware of my whole life," said the Oscar-winning star. "You don't embrace it, so much as shadow-box with it.
"In reaching for the money, you can lose yourself. So I always pay attention to who we are, who we were and who we try to stay being.
"And at the same time, to welcome success but use it wisely, rather than poorly."
Sundance London runs from 26 to 29 April at the O2 in Greenwich, London.