Simon Cowell sorry for Tom Bower book revelations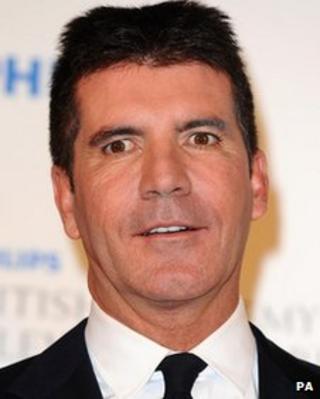 Simon Cowell has admitted revelations in his unofficial biography caused him to bury his head in a pillow.
But the music mogul effectively endorsed Tom Bower's book Sweet Revenge: The Intimate Life of Simon Cowell by attending the launch party.
Speaking to a star-studded gathering at London's Serpentine Gallery, Cowell apologised "to anybody I embarrassed".
He told guests: "I will be honest with you, I spent last week under a pillow in my bedroom. Newspapers were banned."
The book, which was serialised in last week's Sun newspaper, details Cowell's alleged relationship with fellow X Factor judge Dannii Minogue and his fascination with Cheryl Cole.
It is currently sitting at number five in The Bookseller hardback non-fiction chart in its first week of release.
It is the 20th unauthorised biography written by Bower - with other subjects including Formula One supremo Bernie Ecclestone, who attended Thursday's launch, along with retail boss Philip Green and Apprentice star Karren Brady.
Cowell said: "When I first got the call saying someone was writing a book about me I said 'good, who is it?' They said 'Tom Bower'. Not good'."
After speaking to Ecclestone he decided to collaborate with Bower so the author could write a more accurate account of his life, explaining: "I did take Bernie's advice to invite him in. Then I read the serialisation.
"I always know how bad things are when my head of TV sends me these really sweet messages saying 'are you OK', which means it's really bad.
"I want to publicly apologise to anybody I embarrassed because I have tried to keep my private life quiet a bit and I do have to apologise to certain people and certain members of my family. That's the score."
Cowell added: "Being invited here tonight when Tom called me was rather like a cat inviting a mouse to a dinner party.
"While we are here tonight I'm going to announce something quite exclusive, I am not going to any more television for the next year. I have decided I am going to write a book.
"It may change but I am going to call it The Sordid Sex Life of Tom Bower, and we are going to be spending a lot of time together."