ITV glitch during Real Madrid-Bayern Munich match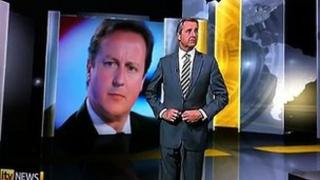 ITV has apologised after its HD broadcast of Wednesday's Champions League semi-final was interrupted during extra-time.
In the third minute of extra time in the Real Madrid and Bayern Munich game, cameras cut to ITV newsreader Mark Austin preparing for the News At Ten.
The interruption lasted for about 15 seconds before match coverage resumed.
An ITV spokesman said a "technical fault... resulted in a brief break in transmission".
Viewers saw Austin standing in the news studio, fiddling with his jacket buttons and staring into the distance.
"We would like to apologise for this interruption to the game," the spokesman said.
He added the error had only affected viewers in the London and south-east regions.
Commentators also offered an on-air apology after the interruption while the channel tweeted an explanation for the fault.
Austin himself also tweeted over the incident, saying: "Button tending is an underrated habit."
It is not the first time ITV has mistakenly interrupted a football match - in June 2010 HD viewers missed Steven Gerrard's goal for England in the World Cup match against the USA.
In that instance, some viewers reported seeing a car advertisement.
The year before, viewers also missed the winning goal in a Liverpool v Everton FA Cup tie when coverage cut to another advert.