Levon Helm memorial brings hundreds to Woodstock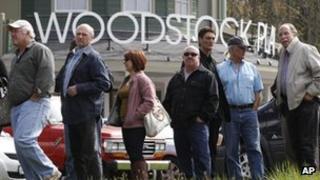 Musicians, friends and fans travelled to Woodstock, New York on Thursday to pay their last respects to singer Levon Helm, who died of cancer last week.
The memorial was held at the barn where the drummer for US rock group The Band used to hold Saturday night concerts.
The wake was attended by almost 2,000, according to the school bus company that shuttled mourners to the wooded grounds of Helm's home and studio.
Helm's closed casket was flanked by his drum kit and a piano.
Roland Mousaa, a folk musician who performed with Bob Dylan and other artists at Woodstock, said the performer had been "so down to earth".
"The greatness of Levon Helm was the impact he had on people," Mr Mousaa continued.
The Band famously toured with Dylan in 1965, 1966 and 1974 and appeared with him in Martin Scorsese's 1978 concert film The Last Waltz.
Helm went on to tour with Ringo Starr's All Starr Band in the 1980s and enjoyed solo success with such albums as Dirt Farmer, Electric Dirt and Ramble at the Ryman.
Born in Arkansas in 1940, the singer was diagnosed with throat cancer in 1998 and died on 19 April at a New York hospital.
After a private funeral on Friday he will be buried in Woodstock Cemetery next to Rick Danko, The Band's singer and bassist who died in 1999.