Doctor Who star Matt Smith joins Disney poetry show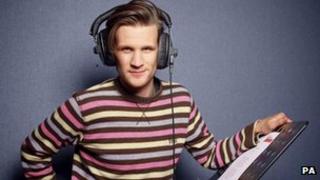 Doctor Who star Matt Smith is to take part in a Disney TV show aimed at introducing poetry to young audiences.
The 29-year-old will perform one of the readings on A Poem Is, a "short-form" series that twins celebrity poetry recitals with classic Disney animation.
Smith will read Once They All Believed in Dragons by Jack Prelutsky, the first US Children's Poet Laureate.
The actor, who is currently filming his third Doctor Who series, said he had "always had an enthusiasm for poetry".
"It is so vital to my art to have an understanding and appreciation for classic literature," he went on.
According to the actor, A Poem Is offers "a whole new generation of young minds a way of learning and sharing poetry".
"The fact that it's set to some of the most iconic Disney animations just makes the whole experience so enjoyable."
Actor Richard Briers, comedian David Walliams and Downton Abbey actress Michelle Dockery will also lend their voices to the show, which begins on 30 April on the Disney Junior UK cable channel.
Jennifer Garner, Whoopi Goldberg, Kenneth Branagh and Owen Wilson are among the performers who have contributed to previous editions.