Lucian Freud show to open until midnight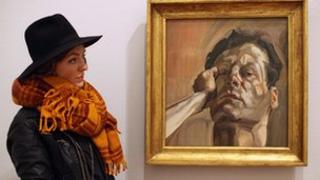 The National Portrait Gallery's Lucian Freud exhibition is to open until midnight for three days to cope with demand.
The show has attracted 175,000 people to date since it opened on 9 February, making it the gallery's most popular paid-for show.
The London gallery previously extended its opening hours until 21:00 to allow for extra visitors.
It will open until midnight from 24-26 May, before the show ends on 27 May.
The exhibition has now overtaken the gallery's previous record-breaking paying exhibitions - Mario Testino Portraits (2002), David Hockney Portraits (2006) and Annie Leibovitz: A Photographer's Life (2008).
Gallery director Sandy Nairne said he was delighted the show was proving so popular.
"Visitors are coming to the gallery to experience the sheer brilliance found across seven decades of portraits by one of Britain's greatest artists," he said.
The show features more than 100 paintings and works on paper, beginning with the British artist's earliest in the 1940s, loaned from museums and private collections around the world.
It also includes the last work painted by Freud before he died in July 2011.
The unfinished nude, Portrait of the Hound 2011, shows Freud's assistant David Dawson with his dog Eli.