Jason Statham: Billion dollar man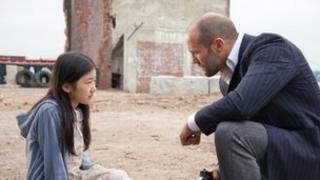 In just over a decade, actor Jason Statham has become a billion dollar box office success. But how did this one time street trader go from selling black market perfume and jewellery to starring opposite Brad Pitt, Bruce Willis and Sylvester Stallone?
After debuting in Guy Ritchie's 1999 East End gangster hit, Lock Stock and Two Smoking Barrels, Statham has carved his own niche in the action genre, appearing in box office hits like The Expendables and Snatch, as well as being the leading man in films including Death Race, The Transporter series and Crank.
These movies have taken more than a billion dollars in cinemas alone, making Statham one of the most bankable stars in the world - even if some critics complain he only plays one role.
Pile of bodies
Safe is Statham's latest movie, which premiered in London this week. He plays an ex-cop in New York, who is saved from suicide by a chance meeting with a young Chinese girl.
The child is a mathematical genius, and he must in turn save her from both Russian gangsters and Chinese Triads, stacking up an impressive pile of bodies on the way.
The Guardian points out that it is "Safe by name, safe by nature", and full of "the usual irresistibly dubious pleasures: car chases, kidnapped adolescent girls, martial arts dust-ups, tersely-written, often ill-delivered dialogue, all cut together at breakneck speed to a thunderous soundtrack".
However, when asked about his box office success, Statham attributes it to knowing what he is good at, and sticking with it.
Movie heart
"Some roles suit me better than others, no doubt about it," he says, "and this movie is typical of the action genre. It's not pretending to be anything but an action film.
"However, there is a heart to the movie too, and that's my character's relationship with the little girl.
"It actually takes time to perfect this genre, and to be able to do it with confidence. I'm still working on it."
Safe's executive producer, Stuart Ford, claims no-one else would have been considered for the part.
"We wanted to make an action movie that had a real excitement level to it, so it looks real on screen. There's only one guy that does that in Hollywood, and that's Jason Statham.
"He's not manufactured, and there's a honesty about him when you watch him. That's partly because he does his own stunts, but I think he's believable emotionally as well."
Statham does display some humanity in Safe - he actually cries, which he jokes are "CGI tears" - but he agrees the ability to do his own stunts gives him an edge on his competition.
For twelve years, he was a member of the British National Diving Squad, and he also studied kung fu, kickboxing and karate - with little idea of how it would benefit him in the future.
"I spent years doing those sports and now it's all paid off, but at the time I had no idea," recalls Statham.
"Years and years ago, I wanted to be a stuntman and I felt that was a pretty realistic ambition, but it was still a stretch of the imagination.
"Now I get to do a bit of acting, and I get to do all the stunts, so I've fulfilled a small dream I had years ago.
"I do say exactly what I will and won't do with stunts, but I really enjoy them. Myself and the director, Boaz Yakin, talked about what we wanted from the action.
"I want it to be captured in the right way, I don't want it to look like I was sipping tea in the trailer and letting someone else do all the hard work for me.
"There's something to be said for doing something that's very risky. If there's a chance that you might get hurt, and you get through that moment and it turns out well, there's an element of reward to that. It's always about testing yourself."
'Best of breed'
According to Stuart Ford, Statham's ability to create his own action does more than shave a few dollars off the budget - it has gained him legions of fans around the globe, who turn up time and again to see his films.
"He's carved a niche for himself, partly because he's exceptionally good at what he does, but also there's a dearth of other guys who can do their own stunts, particularly in Hollywood. He really is the best of the breed."
He adds: "We are opening in 70 or 80 countries and we need a bankable star with a global name. Jason's action movies are loved in Asia, the USA and Latin America. He has universal appeal and that's why he makes so much at the box office."
With that in mind, does Statham really deserve the critical disapproval that is often heaped upon him?
The Associated Press described Safe as "the worst Jason Statham movie since the last Jason Statham movie."
Or should he even care? After making a living modelling and street trading, in 1998 Statham met up-and-coming director Guy Ritchie, who cast him as a con-artist in Lock Stock and Two Smoking Barrels.
These days he lives in Los Angeles, and is dating model and Transformers actress Rosie Huntingdon-Whiteley.
"I've been extremely lucky," Statham shrugs. "I've been in the right place at the right time. However, I will always be grateful to Guy Ritchie, because I was selling perfume and jewellery on the street, and he offered me that part and changed my life. "
In the meantime, Statham says he'll continue to play it relatively safe.
"You're never going to get me in a period drama, put it that way. But I do care about a good script, because all I can do is what is put in front of me, and all I can choose from, role wise, is what I'm offered.
"But I've just been working on a film, Hummingbird with Steven Knight (the writer of Dirty Pretty Things), and that's the most challenging and emotional thing I've done in my career."
It's not a rapid change of direction though - he plays a man who's forced to confront his violent past when his wife is murdered.
And with The Expendables 2 due out later this year, Statham's box office profits - and on screen body count - should stack up even further.
"Am I really a genre all by myself?" he muses. "Maybe. At least that'll keep me going if nothing else ever happens for me."