Stripper film Magic Mike to close LA festival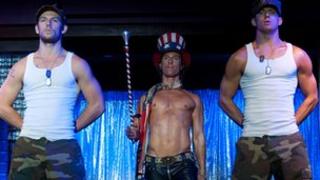 Magic Mike, a comedy loosely based on actor Channing Tatum's days working as a male stripper, is to close the Los Angeles Film Festival next month.
Directed by Steven Soderbergh, it stars the 21 Jump Street actor as a veteran stripper who takes a younger performer under his wing.
Matthew McConaughey and British actor Alex Pettyfer also star.
Woody Allen's latest film, To Rome with Love, will open the festival, which runs from 14 to 24 June.
Oscar nominees Ellen Page, Jesse Eisenberg and Alec Baldwin feature in the film, which is set in Italy and also stars Allen himself.
More than a dozen films will have their premieres at the festival, now in its 18th year.
They include People Like Us, featuring Star Trek's Chris Pine as a fast-talking salesman seeking to fulfill his estranged father's dying wish.
There will also be gala screenings for Seeking a Friend for the End of the World, starring Steve Carrell and Keira Knightley, and Sundance award winner Beasts of the Southern Wild.
Ten films will compete for the narrative prize, while nine qualified in the documentary category.
The festival will also host a Dirty Dancing Dance-A-Long featuring dancers from local companies replicating key scenes from the film to celebrate its 25th anniversary.