The Thick of It writer criticises BBC America censors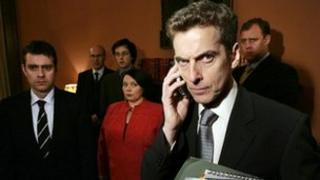 A writer for British comedy The Thick of It has criticised BBC America's decision to censor the show.
Jesse Armstrong described the move to 'bleep' Armando Iannucci's award-winning political satire as an "error".
"They should at least have a conversation with Armando and check what they're going to do with it before they put it out," he told the BBC. "It seems a little odd."
BBC America stood by its decision, despite the show airing at midnight.
A spokesman for the US channel told comedy website Chortle that it "abides by basic cable television common practice in the US in using bleeps to cover profanity in its programmes".
But Armstrong, speaking at the South Bank Sky Arts Awards, said: "I think if it's on quite late at night people know what they're getting and it's part of the programme. I think it's an error probably.
"We always wanted to do something that was behind the scenes in politics and part of that is that people use a lot of swearing in high-pressure situations. I think it's a shame."
Writer Simon Blackwell, who also worked on the show, tweeted: "Apparently BBC America bleeped The Thick of It. Must have sounded like a lorry reversing into a heart monitor."
The dark comedy about the inner workings of British government was created by Iannucci, who is also behind US comedy series Veep
BBC America scheduled the third series of The Thick of It to coincide with HBO's launch of Veep, which is set in the office of a fictional female vice-president.