Artist Thomas Kinkade died of accidental overdose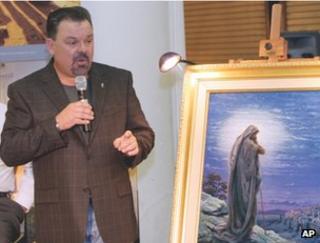 US landscape artist Thomas Kinkade died from an accidental overdose, an autopsy has concluded.
California's Santa Clara County medical officer found Kinkade stopped breathing at his San Francisco home last month after taking valium and alcohol.
The news was reported by NBC Bay Area News on Monday.
Kinkade, who was 54 when he died, claimed to be the most collected living artist in the US. He was best known for his paintings of idyllic landscapes.
He also frequently painted churches and cottages and produced scenes from Walt Disney films including The Little Mermaid and The Lion King.
Kinkade's sentimental works were said to fetch around $100m (£63m) a year in the US but were not popular with the art establishment.
His paintings generally depicted tranquil scenes, with many featuring images from passages of the Bible.
His brother has said Kinkade had battled alcoholism and had had a relapse before his death.
Kinkade attended University College Berkeley in California before beginning work as an artist in the film industry.
He then began publishing his images and went on to create over 1,000 paintings.