ITV 'committed to Lewis series'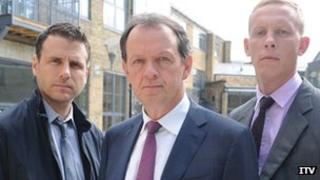 ITV has said it is "committed" to Inspector Morse spin-off drama Lewis amid claims from its creator the show could be coming to an end.
Author Colin Dexter told the Radio Times he thought ITV would "probably do one more series", adding he did not think the character "can go on much longer".
A sixth series of the drama starring Kevin Whately begins next week.
ITV told the BBC it had already commissioned a seventh series.
Dexter, who works as a consultant on the drama, said: "The agreement is they won't put anything on telly without me seeing it. Sometimes we have to say it's not up to scratch."
The author criticised the first two series of Lewis as being "ridiculously complex", but said later episodes had "got better".
The detective drama has been on ITV1 since 2006. Whately originally starred as the sidekick of the late John Thaw in Inspector Morse.
The actor told the Radio Times in January he thought the series might not last much longer.
"I'm now police retirement age this year, so the time is coming quite soon, I think," he said, adding: "You can definitely expect one more [series] next year, then after that, we'll see."
An ITV spokeswoman said: "We have a series of Lewis due on screen later this month and a further series goes into production in June. We remain committed to Lewis."