Arts tours scoop Lottery funding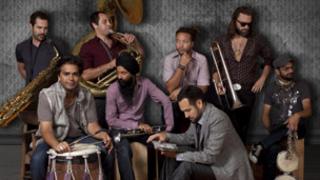 The Tate gallery, a New York bhangra act and a dance troupe who mix hip-hop with morris dancing are to receive National Lottery money to go on tour.
The Arts Council England has announced the first nine organisations to benefit from its £45m strategic touring fund.
The Tate received £1m for its Artist Rooms scheme, which takes exhibitions by key artists around the UK.
The Bristol-based Asian Arts Agency received £55,000 to stage a tour by nine-piece Brooklyn group Red Baraat.
The band have been winning enthusiastic reviews for their combination of bhangra with funk and jazz and will tour the UK in early September.
Asian Arts Agency director Jaswinder Singh said the band were redefining Asian contemporary music and would take the sound to audiences "who would not otherwise be able to experience music like this".
Other successful recipients include DanceEast, based in Ipswich, who received £994,000 for a three-year plan to create dance performances for children and families in areas that currently have little access to such artforms.
A £120,000 grant has been given to the Yorkshire-based Demon Barbers, whose show combines the traditional folk, morris and clog styles with cutting edge street dance.
A further £311,000 has gone to Creative Arts East, who will take theatre and spoken word performances to libraries, pubs and halls across Norfolk and Suffolk.
'Uncertain' future
A total of nine organisations shared the first £3m to be allocated from the Arts Council England's strategic touring fund. But a further 31 applicants missed out.
The Northumberland Theatre Company, which takes plays to village halls and community centres, recently lost its regular Arts Council funding and said it faced an "uncertain long-term future" after being turned down for the touring money.
Chairman Neil Mundy said: "After 33 years of delivering quality theatre to rural communities, we are not going to give up easily, but we are deeply disappointed that we have not been awarded this funding."
A further £12m will be awarded from the strategic touring fund later this year, with another £30m set aside for the following two years.
Arts Council England chief executive Alan Davey said the successful schemes would give the public access to "high quality work, often in unusual venues such as libraries, pubs, schools and outdoor spaces".
He added: "We're really excited about the potential of these projects to get more people involved in the arts and to ensure that wherever they live, they have the chance to experience and be inspired by the arts."