Avengers holds off American Pie challenge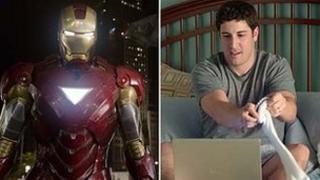 Marvel Avengers Assemble has held off a challenge from comedy sequel American Pie: Reunion to remain the top film at the UK and Ireland box office.
The superhero movie took £8.12 million in its second weekend in cinemas, swelling its overall takings to £29.8m.
The latest entry in the American Pie series is second in the chart, having accrued £6.33m since opening on 2 May.
Zac Efron romance The Lucky One rounds out this week's top three, having made £1.15m over the same period.
Confirmation of The Avengers' continued success in the UK followed its record-breaking opening in the US and Canada.
The Disney release took $200m (£123m) over the weekend, smashing the record set by Harry Potter and the Deathly Hallows Part 2 in July 2011.
The Avengers, released as Marvel Avengers Assemble in the UK and Ireland, sees comic book heroes Iron Man, The Hulk, Thor and Captain America team up to save the earth.
Disney CEO Bob Iger said the company was planning an Avengers sequel sometime after the release of Iron Man 3 and Thor 2 next year, and Captain America 2 in 2014.
Fourth place in this week's UK chart was taken by the 3D re-release of Disney's Beauty and the Beast, which took £685,024 between Friday and Sunday.
That put it ahead of Jason Statham action drama Safe, which could only muster three-day takings of £679,716 from its 330 screens.
The only new entry in this week's Top 10 was horror film Silent House, which claimed ninth place with a weekend tally of £214,731.
This Friday sees the release of Tim Burton's Dark Shadows, a supernatural comedy starring his regular collaborator Johnny Depp.