Ricky Gervais comedy Derek commissioned for full series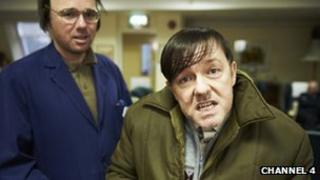 Channel 4 has commissioned a full series of Ricky Gervais's comedy drama Derek, it has confirmed.
A pilot episode in April drew 3.2m viewers, including +1 and on demand figures, according to the broadcaster - the highest rating for a scripted comedy in nearly two years.
However, the programme drew some criticism over suggestions the "simple" central character mocked people with learning difficulties.
The new series is due to air next year.
It will again be written and directed by Gervais - who will reprise his role as Derek Noakes, a "simple, vulnerable man" who works in a retirement home.
Gervais's former producer Karl Pilkington and comedian Kerry Godliman will also return as Derek's best friend Dougie and co-worker Hannah.
Channel 4 said the new series would "further explore the relationships between this close knit group".
"The pilot triggered an amazing response and Derek's story had only just begun so it's brilliant that we can explore this world and its beautifully drawn characters across a series," Shane Allen, Channel 4's head of comedy said.
Ricky Gervais - who created The Office for the BBC - added: "David Brent was an egotistical, failed musician and the most annoying man in the world.
"Derek is a 50 year old man with bad hair and clothes, whose best friend is a whinging, bald Manc twonk. Where do I get my ideas from?"
Gervais defended the show after some criticised the portrayal of Derek's character.
The comedian told disability rights campaigner Nicky Clark. : "Derek is a fictional character and is defined by his creator, me.
"If I say I don't mean him to be disabled then that's it. A fictional doctor can't come along and prove me wrong."
"He's different. But then so are a lot of people. He's not the smartest tool in the box but he's cleverer than Father Dougal [from Father Ted], and not as different as Mr Bean."