LS Lowry given major Tate Britain exhibition in 2013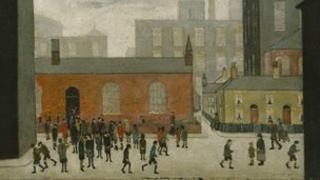 Major exhibitions featuring the works of LS Lowry, Roy Lichtenstein and Marc Chagall are among the highlights of Tate's 2013 programme.
The Lowry landscapes exhibit at Tate Britain is the first such show held by a London public institution since the artist's death in 1976.
While the first major retrospective of Lichtenstein's work for 20 years will be held at Tate Modern next spring.
Works by William Scott, Gary Hume and Paul Klee will also feature.
The Lowry exhibition in June 2013 comes after critics from the art world called on Tate to show its collection of paintings or put them up for sale.
Some had questioned whether the gallery on Millbank in London had purposely not shown the Manchester artist's work because he was "too northern".
Tate said the show resulted "from an invitation extended to the distinguished art historians TJ Clark and Anne M Wagner to reappraise Lowry for a new and extended audience."
Featuring around 80 works, Tate added the show "aims to re-assess Lowry's contribution as part of a wider art history and to argue for his achievement as Britain's pre-eminent painter of the industrial city".
Tate Britain is also due to complete its major refurbishment next summer.
Lichtenstein later work
US pop artist Lichtenstein's exhibition will bring together 125 of his most definitive paintings and sculptures including his 1963 picture Whamm! - depicting a fighter plane being shot by another.
It will also highlight the artist's lesser-known later works including a series of female nudes and Chinese landscapes.
His last UK exhibition was held eight years ago at London's Hayward Gallery.
Tate Liverpool will host the first Chagall exhibition in the UK for more than 15 years featuring around 60 paintings and a selection of works on paper.
It will also present Glam! The Performance of Style which will examine the glam rock era of 1971 - 1975 and its influence on art in Britain, Europe and North America.
While Tate St Ives will mark the centenary of the birth of British painter William Scott.
The collaborative touring exhibition which will begin at St Ives in January 2013 before going to Hepworth Wakefield and Ulster Museum.