Terry Pratchett picked for comic fiction award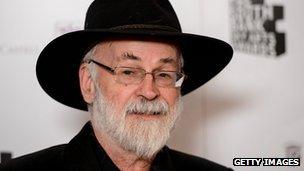 Sir Terry Pratchett and Sue Townsend are among the authors who have been shortlisted for an award celebrating the funniest writing this year.
Sir Terry's hit novel Snuff is in the running for the 13th Bollinger Everyman Wodehouse Prize for Comic Fiction.
It is the author's fourth nomination having missed out the past three times.
The victor will be announced at the end of May and will have a Gloucestershire Old Spot pig named after their winning title.
Also in the running are John Lanchester for Capital, Julian Gough for Jude in London and John O'Farrell for The Man Who Forgot His Wife.
Sue Townsend, best known as the author of the Adrian Mole books, has been shortlisted for her latest work, The Woman Who Went to Bed for a Year.
The award is named after the humorist PG Wodehouse and previous winners include Jonathan Coe's The Rotter's Club, DBC Pierre's Vernon God Little and Solar by Ian McEwan.
Related Internet Links
The BBC is not responsible for the content of external sites.