Architect Rafael Moneo wins Prince of Asturias award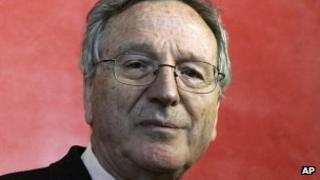 Architect Rafael Moneo has been named the winner of the prestigious Prince of Asturias award for the arts.
Moneo, 75, is one of Spain's most respected architects. His works include the Los Angeles Cathedral and the Atocha railway station in Madrid.
The jury said his "work enriched urban space with an architecture that is serene and meticulous".
The 50,000 euro (£40,000) prize is one of eight given in different fields by the Asturias foundation each year.
The arts prize is awarded to an individual or institution whose work "constitutes a significant contribution to mankind's culture heritage".
Moneo was educated in Madrid and Rome. His works in Spain include the extension to the Prado Museum in Madrid, San Pablo airport in Seville, and the redevelopment of the city's Atocha Railway Station.
Works outside his native Spain include the Museum of Modern Art and Architecture in Stockholm and the Cathedral of Our Lady of the Angels in Los Angeles.
The jury hailed his "airy interiors" as "impeccable settings for great works of culture and the spirit".
Moneo becomes the fifth architect to receive the award in the prize's 32-year history, following in the footsteps of Santiago Calatrava and Britain's Lord Foster.
He beat a total of 39 candidates - across all arts genres - to the prize.
"Receiving the Prince of Asturias Award for the Arts has been a most pleasant surprise for me, as well as an unexpected gift on my birthday," he said.
"I am well aware of the meaning and scope of this award; hence the deep gratitude I feel. To be recognised in one's own land is the most one can aspire to," said Moneo, who is also a renowned international lecturer.
Prizes are presented by crown prince Felipe in October in Oviedo, northern Spain.
Last year's prize for the arts went to the Italian conductor Riccardo Muti. Previous winners include director Woody Allen and Daniel Barenboim.