Chaplin and Lynn musicals head for Broadway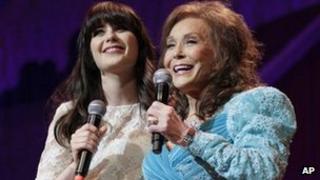 Plans for new Broadway musicals about silent star Charlie Chaplin and country singer Loretta Lynn have been unveiled in New York and Nashville respectively.
Chaplin, a musical depiction of the film icon's life, begins previewing at New York's Barrymore Theatre in August.
In Nashville, meanwhile, Lynn went to the Grand Ole Opry House to announce plans for a musical adaptation of her 1980 film biopic Coal Miner's Daughter.
Zooey Deschanel, the actress who will play Lynn, then joined her on stage.
"There's a little girl back stage that's going to do the play of Coal Miner's Daughter on Broadway," Lynn told the audience at the Ryman Auditorium.
"Zooey, where you at honey?" she went on, inviting the New Girl star to join her in a rendition of the Oscar-winning film's title number.
The announcement mirrored the way Lynn invited Sissy Spacek on the Opry stage in 1979 to reveal the actress would be portraying her on screen.
Spacek went on to win an Academy Award for her performance in the film, directed by Michael Apted of Gorillas in the Mist and 7 Up fame.
Plans for the Coal Miner's Daughter show are still in their early stages. Chaplin, in contrast, has already been staged in 2010.
The show, which charts Chaplin's ascent from London music hall performer to Hollywood legend, ran at San Diego's La Jolla Playhouse under the title Limelight.
British-born Warren Carlyle, director and choreographer of Hugh Jackman's smash Back on Broadway concert show, directed the show then and will do so again.