Jimi Hendrix estate responds to biopic reports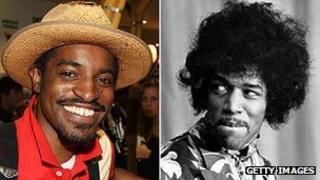 The company that owns the rights to Jimi Hendrix's music has responded to reports that a biopic of the guitar legend will shortly begin shooting.
Such a film, it said in a statement , would need "its full participation... were it to include original music or copyrights created by Jimi Hendrix".
Andre 3000 of hip-hop duo OutKast is to play Hendrix in a film entitled All Is By My Side, it was reported this week.
The Experience Hendrix company said it had not "ruled out" a Hendrix biopic.
Yet it insisted that "producing partners would, out of necessity, have to involve the company from the inception of any such film project if it is to include original Jimi Hendrix music or compositions".
According to Billboard , Haley Atwell and Imogen Poots will star alongside Andre 3000 - real name Andre Benjamin - in the proposed film.
It was reported this week it would start filming in Ireland later this month and chronicle the time Hendrix spent in England in the late 1960s.
A spokeswoman for its producers told the BBC News website earlier this week she could not confirm any details about the project.