30 Rock series to come to an end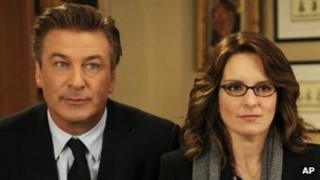 Hit US sitcom 30 Rock is to come to an end, following an abbreviated seventh series, amid falling ratings.
The critically-acclaimed comedy, which debuted in 2006, won a string of Emmys but has been overshadowed by the success of Modern Family and Glee.
Created by comedian Tina Fey, the show revolves around the production of a late night sketch show, and stars Fey alongside Alec Baldwin.
However, audiences have dwindled to an average 3.5 million viewers in the US.
Fey plays Liz Lemon, the head writer of fictional series TGS, who has to deal with dysfunctional stars and a disastrous love life.
Baldwin is Jack Donaghy, the gravel-voiced neo-con boss of TV network NBC, who becomes Lemon's unofficial mentor.
The show is partly based on Fey's experiences of working on long-running US sketch show Saturday Night Live.
'On the horizon'
Last month, Baldwin appeared to suggest on Twitter that he was leaving the show, but Fey rebuffed the rumours on US talk show The View.
"As far as I know, he's not leaving the show. We're all in this together 'til the end," said Fey, in April.
"I think that he just maybe means that the end of the show - we're in six years - that the end of the show is visible on the horizon."
The final season will run for just 13 episodes, and will be announced as part of NBC's forthcoming primetime schedule next week.
The comedy was dropped from British terrestrial TV following its second series in 2009, after a run of poor viewing figures on Channel Five.
It has since been shown in the UK on Comedy Central.