Downton star Dan Stevens to make Broadway debut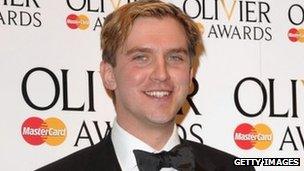 Downton Abbey actor Dan Stevens will make his Broadway debut this autumn, playing a suspected fortune hunter opposite The Help's Jessica Chastain.
Stevens, who plays aristocrat Matthew Crawley in the ITV period drama, will appear in The Heiress from October.
It is an adaptation of the Henry James novel Washington Square, which became an Oscar-winning film in 1949.
Stevens will take the role of Morris Townsend, played by Montgomery Clift in the Hollywood drama.
Chastain will play Catherine Sloper - the part that won Olivia de Havilland her second Oscar for best actress.
The play, written by the husband and wife team Ruth and Augustus Goetz, tells of a plain young woman whose stern father suspects her latest suitor of wooing her for her inheritance.
David Strathairn will appear as the father, the role taken by Ralph Richardson on screen.
The Heiress, directed by Moises Kaufman, will open in October at a Broadway theatre yet to be announced.
Stevens is currently filming the third series of Downton Abbey and is on the judging panel for the 2012 Man Booker Prize for Fiction.
Prior to Downton, the 29-year-old trod the boards in 2009 in a West End revival of Tom Stoppard's Arcadia.
Meanwhile, Chastain was seen this year in Ralph Fiennes' film of Coriolanus and was nominated for an Oscar for her role as a flighty wife in The Help.