Prime Minister praises UK music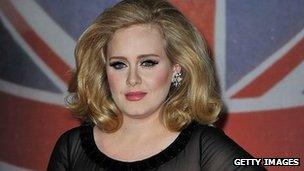 Prime Minister David Cameron has praised British music after global sales of UK artists rose last year.
Fans spent £1.9bn on albums by British acts in 2011, up from £1.83bn in 2010, music industry body the BPI estimated.
Adele led the way with 18 million sales for her second album 21.
Mr Cameron said: "British music is loved all over the globe, and as a country we can be proud of the tremendous success of our music industry, which is a world leader."
The prime minister added that he was "determined to support British creative businesses that generate jobs and opportunities for young people".
UK artists accounted for 12.6% of global music sales in 2011, up from 11.8% in 2010, the BPI said.
Adele's 21, which was the world's best-seller last year, accounted for 1.6% alone - meaning that without it, the overall share for British musicians would have been down.
Coldplay's Mylo Xyloto was the second most successful British album, followed by Adele's debut, 19.
Amy Winehouse and Florence and the Machine each had two albums in the top 10 of British best-sellers, which also featured Mumford & Sons, Susan Boyle and Jessie J.
The BPI said Brits increased their share of the market in France, where Muse and Seal were also popular, while Liam Gallagher's band Beady Eye and Coldplay were the biggest hits in Asia.
Related Internet Links
The BBC is not responsible for the content of external sites.