Julianne Moore 'to star in Carrie remake'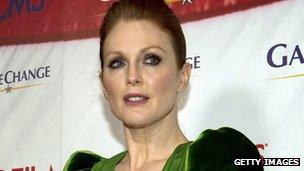 Julianne Moore is to star in a remake of the 1976 horror film Carrie, movie industry website Deadline has reported.
Moore will play the role of Margaret White, the mother of the teenage girl with supernatural powers.
Carrie will be played by 15-year-old Chloe Grace Moretz, who recently told BBC News: "It's a modern-day retelling, not based in the '70s or anything."
She said it would be "dark but exciting", comparing it to the 2010 Natalie Portman film Black Swan.
The original Carrie film was based on a novel of the same name by Stephen King.
Sissy Spacek, who played Carrie, and Piper Laurie, who portrayed her mother, both received Oscar nominations for their performances.
The remake will be directed by Kimberly Pierce, whose previous films include Hilary Swank's Boys Don't Cry.
Moretz, who appeared in Hugo and Kick-Ass, said: "What I'm doing with Kim Pierce is kind of breaking down the book. We're bringing a lot of the book into it and the psychology into it to really get into who she is."
The Carrie story was also turned into a Broadway musical in 1988 - which famously flopped and closed after just 21 performances. That show was revived earlier this year.