Channel 4 in profit despite advertising downturn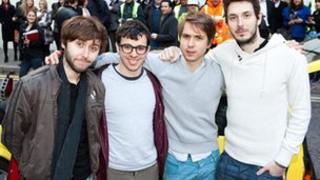 Broadcasting group Channel 4 saw profits increase in 2011, despite a downturn in advertising and a £42m loss at its flagship terrestrial channel.
The group posted pre-tax profits of £44m in its annual report.
The report showed the success of the Inbetweeners movie and an improved performance by its digital channels helped boost revenue.
The main terrestrial channel's loss was driven by a drop in advertising over the 12-month period.
It coincided with the channel's first year without long-running show Big Brother.
Last year, the channel lost £7.7m but in 2009, it posted a loss of £54.9m.
The success of The Inbetweeners was a big boost to the group, becoming the most successful British comedy to date, making £45m at the box office.
More than two million DVDs have also been sold.
Channel 4 chief executive David Abraham told Media Guardian its terrestrial channel's year-on-year decline was the smallest for five years.
"To experience the lowest level of decline for five years in the first year without Big Brother is an immense achievement," he said.
Comedy vehicles
The digital audience share of 4Channels - which comprises digital channels More4, E4 and Film 4 - grew by 0.4% last year to 4.8%.
Spending on entertainment and comedy was increased in 2011, although there was a decline in the amount used for film and drama programming, largely due to a reduction in the number of US shows it bought in.
Spending on factual programmes also decreased, mainly due to the loss of Big Brother.
The focus in the coming year will be original content, with a planned budget of about £450m for programmes made in the UK.
This will be the biggest investment in the group's history.
"Many organisations will try to weather the economic storms by pulling back investment," said the group's chairman, Lord Burns.
"The Channel 4 Board, however, had taken a longer view: we believe the right thing for Channel 4... is to increase content investment in 2012."
There will be an increase in one-off single dramas and drama serials, such as Coup - a four-part political thriller starring Gabriel Byrne - and Complicit, which will examine whether torture is ever justified in the war on terror.
New entertainment shows will include vehicles for comedians such as Micky Flanagan with the Mad Bad Ad Show and Lee Kerns's Massive Thing.
A sequel to the iconic children's animation The Snowman will also be aired.