Radio 2's Ken Bruce gets best ever audience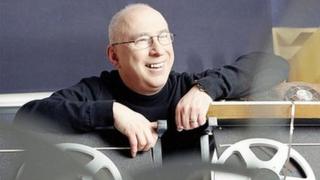 Radio 2 DJ Ken Bruce has pulled in the biggest audience of his career, according to new figures from Rajar.
The data shows the 61-year-old reaching a record high of 7.72 million in the first three months of 2012 - up almost 400,000 on the same period of 2011.
"Obviously I'm a late developer," joked the broadcaster, who joined Radio 2 30 years ago, adding he was "delighted".
Overall, though, fewer people are listening to BBC radio stations than at this time last year.
The total number of people tuning into the corporation's network radio output in the first three months of 2012 was down 2.2% on the same period in 2011.
The most pronounced decline was felt by BBC Radio 3, whose listening figures have dropped 15.8% over the last 12 months.
The fall follows several years of BBC stations improving their audience share at their commercial rivals' expense.
Radio 1 has seen its listenership fall by 5.8%, while Radio 4 recorded a 4.8% drop-off in its overall audience compared with this time a year ago.
Radio 2 - whose breakfast show, hosted by Chris Evans, remains the nation's favourite morning listen - saw its overall audience rise, though only by 0.2%.
Bruce was not the only DJ at the station to record record figures, however.
Reason to celebrate
After 22 years on the air, Brian Matthew's show Sounds Of The 60s achieved its best-ever audience, too - with 3.7 million people tuning in on Saturday mornings.
There was more heartening news for the BBC's local stations, which saw their weekly reach increase by 263,000 listeners on the previous quarter.
People are also listening to the BBC's regional output longer. The average hours listened per listener per week is now 10 and a half, compared to nine hours and 12 minutes one year ago.
And digital station 6 Music posted record listening figures, just two days after it was named UK Station of the Year at the Sony Radio Academy Awards.
Rajar figures showed it reached 1.45 million people every week, up from 1.3m last year and 1.44m last quarter.
6 Music was saved from closure in 2010 after a campaign by its listeners.
Audience numbers for commercial radio stations remain relatively stable, with only a 0.3% drop-off on this time last year.
But the Absolute Radio network has particular reason to celebrate, having increased its reach by more than half a million listeners over the last 12 months.
Rajar's figures show that internet radio listening is now at an all-time high, with 42 million hours being consumed each week online.
The share of all radio listening via a digital platform now stands at 29.2%, compared with 26.5% for the corresponding period last year.