Keith Lemon 'wants Carry On success' for new film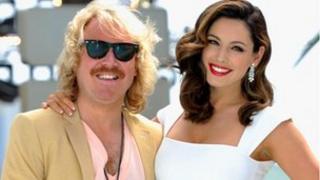 TV celebrity Keith Lemon says he wants his new movie to replicate the success of the Carry On movies.
The presenter of ITV's Celebrity Juice is the latest character from Channel 4's Bo Selecta! creator - comedian Leigh Francis.
Promoting the film as Lemon at the Cannes Film Festival, he told the BBC: "I'd like to create what the Carry On Movies were and have the same cast back with different roles."
The UK release will be on 24 August.
Co-financed by US studio Lionsgate, Francis added: "I just hope enough people go to see it so that we can make a sequel."
Keith Lemon: The Film co-stars Kelly Brook, David Hasselhoff and Austin Powers star Verne Troyer among others.
Francis's Celebrity Juice co-stars - Radio 1 presenter Fearne Cotton and Holly Willoughby will also appear in cameo roles.
Taking a leaf out of comic actor Sacha Baron Cohen's book, who has been promoting his film The Dictator in character as General Aladeen, Francis has insisted on staying in the character of Lemon in interviews.
Francis, 38, is known for the comic portrayals of real life celebrities such as singer Craig David and former Spice Girl Mel B in the show Bo Selecta!.
His panel show Celebrity Juice has run for six series on ITV.
Much of the film, largely shot in Northern Ireland, is scripted though Francis said there was room for his style of improvisation.
"As long as we get from A to B, in that scene, then nine times of out ten they'll shoot the one we had fun with.
"It's better because when you're writing, I don't find it very creative sat in front of a computer screen."
Much loved TV characters and shows have made the jump from the small screen to the big screen with varying degrees of success.
Cohen's Ali G Indahouse was released to average reviews as was comic Harry Enfield's Kevin and Perry Go Large.
Francis admits he was aware of the potential problems but joked: "I thought will people want to go see an hour and a half of me but thanks to ITV2, repeating the hell out of Celebrity Juice is seems people are happy to watch more".
As for critics, Francis said: "There are people who don't like me and will say' You're rubbish'.
"I say, 'Yeah, and when's your film coming out?"