Rupert Everett to make director debut on Wilde biopic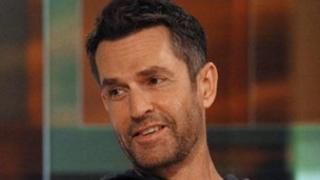 Rupert Everett will make his debut as a director with a film about Irish writer Oscar Wilde's life.
The film, also scripted by Everett, will look at Wilde's final days and is titled The Happy Prince.
Everett will also star as Wilde while Colin Firth has been cast as the playwright's friend Reginald Turner.
Emily Watson, Tom Wilkinson and Edward Fox are also due to star in the film, which will begin shooting next year.
It is not Everett and Firth's first foray into the works of Oscar Wilde. They appeared together in the 1999 adaptation of An Ideal Husband and 2002's The Importance of Being Earnest.
They have also starred alongside each other in recent years on the St Trinian's films.
Oscar Wilde achieved much acclaim and notoriety during his time but was imprisoned in 1895 for two years. He died in Paris in 1900, aged 46, from cerebral meningitis.
The Happy Prince is set to feature a mixture of the comic and tragic elements of his life.