X-Men superhero set for same sex wedding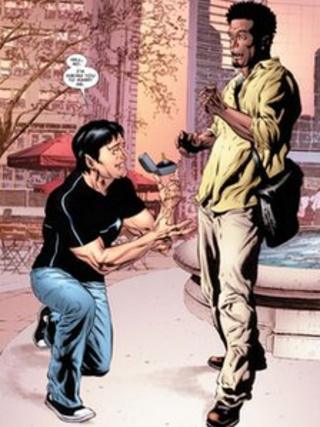 Marvel comic X-Men is to feature its first same sex wedding after gay character Northstar's marriage proposal to his boyfriend.
The story begins in the latest issue, Astonishing X-Men #50, which went on sale this week.
The comic sees Jean-Paul Beaubier - whose alter-ego Northstar can move at superhuman speeds - popping the question to Kyle Jinadu.
Their wedding will be featured in the next issue, due out on 20 June.
Some retailers are planning their own wedding parties to celebrate.
Marvel previously broke new ground with Northstar - who has featured in the series since 1979 - by revealing in 1992 that he was gay.
The wedding comes after President Obama became the first sitting US president to publicly support gay marriage.
"The Marvel Universe has always reflected the world outside your window, so we strive to make sure our characters, relationships and stories are grounded in that reality," Marvel Comics' editor in chief Axel Alonso said.
"We've been working on this story for over a year to ensure Northstar and Kyle's wedding reflects Marvel's 'world outside your window' tradition."
Hidden dangers
Jean-Paul and Kyle - who does not have superhuman powers - have been together since 2009.
Yet Marvel have hinted there may not be a happy ending for the couple.
"Will their path to wedded matrimony in New York City be smooth, or are there hidden dangers around the corner?" they ask in the official wedding announcement.
Even if everything goes as planned, Northstar will not be the first gay character to have had a same sex wedding in the comic book world.
In 2002, the DC Wildstorm comic The Authority featured a same sex marriage between its characters Apollo and The Midnighter.
Other gay and lesbian comic book characters include DC Comics' Kate Kane - aka Batwoman - who was the publisher's first openly gay superhero.