On the Road film is unveiled at Cannes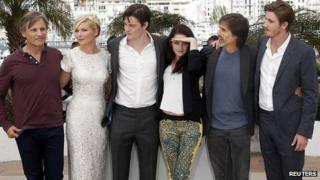 A long-awaited film adaptation of Jack Kerouac's 1951 novel On the Road has been screened for the first time at the Cannes Film Festival.
Cast members Kristen Stewart and Britain's Sam Riley were among those who launched the film on the Croisette.
The movie, which chronicles Kerouac's semi-autobiographical take on the Beat Generation, has taken more than 30 years to reach the screen.
Producer Roman Coppola first bought the film rights in 1979.
Riley stars as Kerouac's alter-ego Sal Paradise, who writes about his adventures on a series of road trips with the charismatic Neal Cassidy, played by Garrett Hedlund.
Stewart - best known for her Bella Swann role in the Twilight film series - plays Neal's young wife, Marylou.
At a press conference on Wednesday, the 22-year-old admitted she had been daunted by some of the film's racier content.
"Obviously everyone who does scenes like that, the first thing you say is: 'Oh, I felt so safe,'" she told reporters.
"I love pushing, I love scaring myself, and I think to watch genuine experience on screen is so much more interesting."
Reviews of the film have been mixed so far. Some critics have praised its visuals while remaining unconvinced about the characters and storyline.
The Telegraph 's Robbie Collin called the film "a tedious loop of beatnik debauchery", while Forbes ' Roger Friedman said it would "frustrate critics and Kerouac scholars".
Director Walter Salles, whose previous films include Central Station and The Motorcycle Diaries, conceded he had been "very loyal" to the material.
"It's about the loss of innocence, it's about the search for that last frontier they'll never find," the Brazilian said.
"It's about also discovering that this is the end of the road and the end of the American dream."
The film, to be released in the UK this September, is one of 22 in contention for this year's Palme D'Or award.
Others include David Cronenberg's new drama Cosmopolis, in which Stewart's Twilight co-star Robert Pattinson takes the lead role.