Injured Transformers 3 actress in £11.7m settlement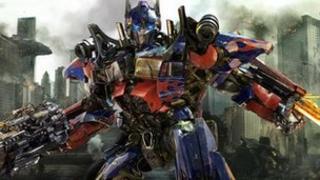 The family of an actress injured on the set of Transformers 3 has been awarded an $18.5m (£11.7m) settlement.
Gabriela Cedillo was left brain-damaged when she was hit during a stunt sequence by a piece of metal, in what the studio called a "tragic accident".
An investigation found a weld which connected a car to a tow cable failed when filming was taking place in Indiana in the US in 2010.
The 26-year-old actress now needs constant care, her lawyer said.
Cedillo was driving a car in the background of the shot, when the stunt vehicle broke loose on the set of the blockbuster sequel Transformers: Dark of the Moon in September 2010.
Following the accident, a portion of her skull was removed and she now suffers from memory loss, seizures and is blind in one eye, her lawyers said.
Robert Lawson, spokesman for the film studio Paramount Pictures, said: "We are pleased that the Cedillo family has agreed to move forward with the settlement. This was a tragic accident and our thoughts and prayers remain with Gabriela."
A judge in Chicago, where Ms Cedillo lives, approved the settlement this week after the actress sued Paramount Pictures in October 2010.
A fourth Transformers film is scheduled for release in 2014.
Earlier this year, director Michael Bay revealed he has been working on an idea with executive producer Steven Spielberg, which he called "a whole new reimagining of Transformers".